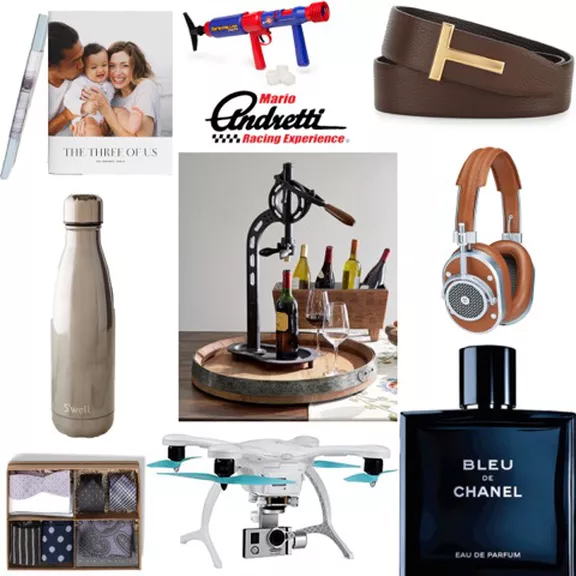 1. Drone– Boys love their toys! Drone's are great because they come in all different sizes and price ranges, depending on how advanced of a drone pilot your hubby is/pretends to be. Not only does this give his something exciting to do on the weekend with the kids, it also gives mama a couple hours of quiet time on the while they're out at the park enjoying dad's new drone!
2. S'Well Titanium Reusable Bottle– I guarantee everyone in the office has a Yeti mug, but lets be honest, those aren't cute! I love these S'Well reusable bottles because they can keep your drink cold for 24 hours, your coffee hot for 12 hours and look so much more sleek and stylish than a big, bulky tumbler. 
3. Chanel Bleu Fragrance– As much as this is a gift for the man in your life, this is also a gift for you because who doesn't love a good smelling man! While Chanel kills it in the women's department, they also know how to do a mens fragrance too, and Bleu is my personal fave!
4. Race Car Experience– What little boy doesn't dream of being a race car driver? The Mario Andretti Racing Experiance offers the "world's fastest driving experience" in indy-style cars around a real race track! Now, while I feel like every trip down the highway with my husband in the drivers seat is the "world's fastest driving experience", this one is legal and super fun to watch with the kids! 
5. Master & Dynamic MH40 Headphones– Everyone, and I mean everyone, has a pair of Beats headphones. And they're great headphones, don't get me wrong, but I love a stand out gift and these Master & Dynamic MH40 Headphones are a total stand out in my opinion. 
6. Marshmallow Shooter– I see the inner child light up in my husbands eyes overtime my boys get a new Nerf gun or bow and arrow toy, and I also see slight disappointment when he realizes that I didn't get him one too. This year, dad is getting a toy the boys don't have, a Marshmallow Shooter! No need to worry about losing those annoying little foam bullets that somehow get lodged in crevice in my house and are like crazy expensive to replace, when you can buy a $2 bag of marshmellows that are all bound to get eaten. Boys will be boys! 
7. Tom Ford Belt– Okay ladies, yes this belt is pricy, but a good belt for men is like a good bag for us! It's an investment and something that will get use almost every day! I love the simplicity and sophistication of Tom Ford's designs and his menswear is no exception. The quality is incomparable, the design is sleek and what man doesn't look good all dressed up with the perfect belt as his finishing touch!
8. Vintners Standing Wine Opener– This is not only a cool gift, but it is also an amazing conversation piece to have in your kitchen! This standing wine opener is modeled after a vintage professional wine opener, made for your countertop at home. This cool little kitchen accessory securely holds your wine bottle in place for uncorking while your husband looks like a bad ass with his new vintage toy. You're bound to score bonus points from guests with this one. 
9. The Tie Bar Style Box– Some men love fashion and are always on trend, other men…lets just say need a little more guidance. You know what I'm talking about ladies! Does the guy in your life not still have a pair of jeans in his closet that he has been holding on to for 10 years too long? That's okay, that's what we are here for! The Tie Bar Style Box packages together the perfect set of small style updates that will keep your man on trend without breaking the bank!  
10. Photo Book– The most precious thing we have in the world is the time we get to spend with our children. One day, they will grow into men and be fathers to their own. My husband loves filling his office with pictures of the boys as they get older and pictures they have made for him. Hire a photographer, buy the kids a fresh set of clothes and take them to the local park for a quick photo shoot that you can have made into this gorgeous hard cover book that will remind the man of the house how much he is loved!