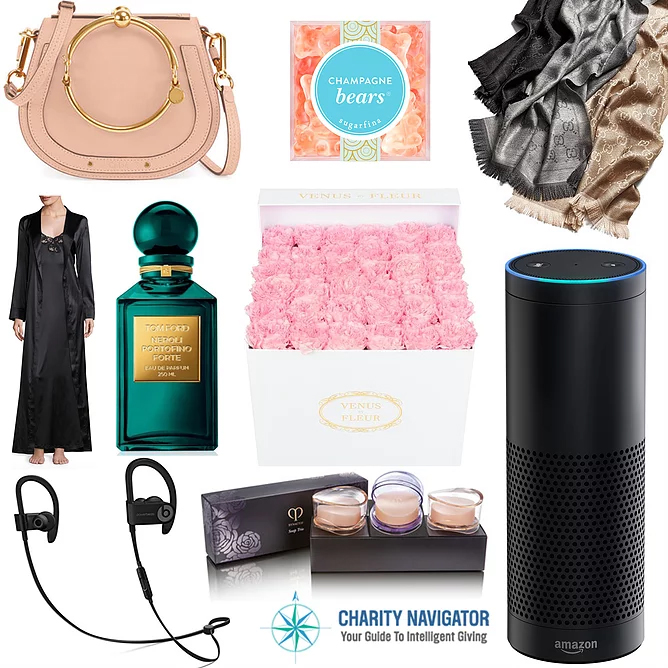 1. Amazon Echo– For the working mom, the Amazon Echo is seriously the biggest life/time saver EVER! This genius little device is like a personal assistant that sits anywhere in your house to play music, answer questions and best of all…place orders for you! When I am running low on paper towels or laundry detergent, I tell my Echo to order me more and in two days it shows up at my door step and saves me the hassle of a mid-week run to the grocery store! I am getting emotional just thinking about it! 
2. Tom Ford "Neroli Portofino" Fragrance– This one is a splurge but, oh my goodness, worth it! The bold concentration of the portofino scent, combined with the smell of a smooth leather provides for the perfect fragrance for those special occasions. And what good would the perfect perfume be without a date night to accompany. 
3. Sugarfina Champagne Bears– I probably gift these to myself just as much as I gift these to other people! A friend recently introduced these tasty little treats to me as a "thank you" gift and and it was love at first bite! What makes these little guys so special is that Sugarfina infuses each gummy bear with French champagne for a combination that has never been more magical. Such a great little indulgence! 
4. Venus Et Fleur– Nothing says "Happy Valentines Day" like a bouquet of roses, but whats even better than flowers in a vase? Flowers in a box! I see these all the time on Instagram and am dying for someone to send me one of these arrangements. If someone doesn't send me one soon, Im going to send one to myself just to make myself feel special! 
5. La Perla Maison Silk Robe– A robe is the ultimate luxury in my opinion! If the love of your life is anything like me, she lives in her robe! La Perla does such a fabulous job at choosing the finest of silks to create a luxurious touch and girly flare with their incredibly detailed lace designs. After a long day, there is nothing like stepping out of a bubble bath and into your silk La Perla Robe. 
6. Chloe Bag– The gift of being hands free while you're toting two kids around town is honestly the greatest gift of all! Every mom needs a good crossbody bag in her collection and no one does a crossbody bag better than Chloe. The durability and quality of their craftsmanship paired with the modern and youthful design makes the Chloe Nile Crossbody bag a total closet essential in my opinion!
7. Cle De Peau– Listen boys, I know this one is a little off, but hear me out! While this one may seem a little strange, a girl's skin in EVERYTHING! If a man gave me a fancy skin care product for valentines day, I would probably consider that one of the most romantic gifts ever! Not only because he too cares about my skin, but because that means he listens when I go on a skincare rant and he notices how much work we ladies put into taking good care of our skin! Ahh- Im getting all excited just thinking about it! #IDidntWakeUpLikeThis
8. Beats by Dr. Dre Powerbeats 3 Wireless Headphones– Boys like their toys, but mama likes hers too…well at least when it comes to headphones. Exercise is such a huge part of my life, I am constantly going through headphones for various reasons. They fall apart, they don't fit comfortably, a wire goes out; the list goes on. I have finally found a forever pair with the Beats by Dr Dre. Powerboats 3 Wireless Headphones! The 12 hour battery life gets me through a full weeks worth of work outs, the earphones comfortable stay in place while running and the ability to go wireless has been a life changer! For the athletic girl in your life, these are a must!
9. Gucci Shimmery Scarf– You can't go wrong with a good scarf! Depending on where you live will depend on how useful a nice scarf would be, but let me just testify for a second, I live in Dallas, Texas and I wear this scarf at least once a week! The quality and comfort that Gucci provides, complimented by the stylish design and trendy color makes this an easy finishing touch to almost any outfit. Plus, you're sure to win major style points from your lovely lady for this one! 
10. Donation to a local charity– One of the reasons I fell in love with my husband was for his giving heart and willingness to help others. For the girl that has everything, why not give to someone who is not as fortunate as your special someone and make a donation to a charity near and dear to their hear, in their name. Charity Navigator partners with thousands and thousands of charities all across the world to make your giving process that much easier!