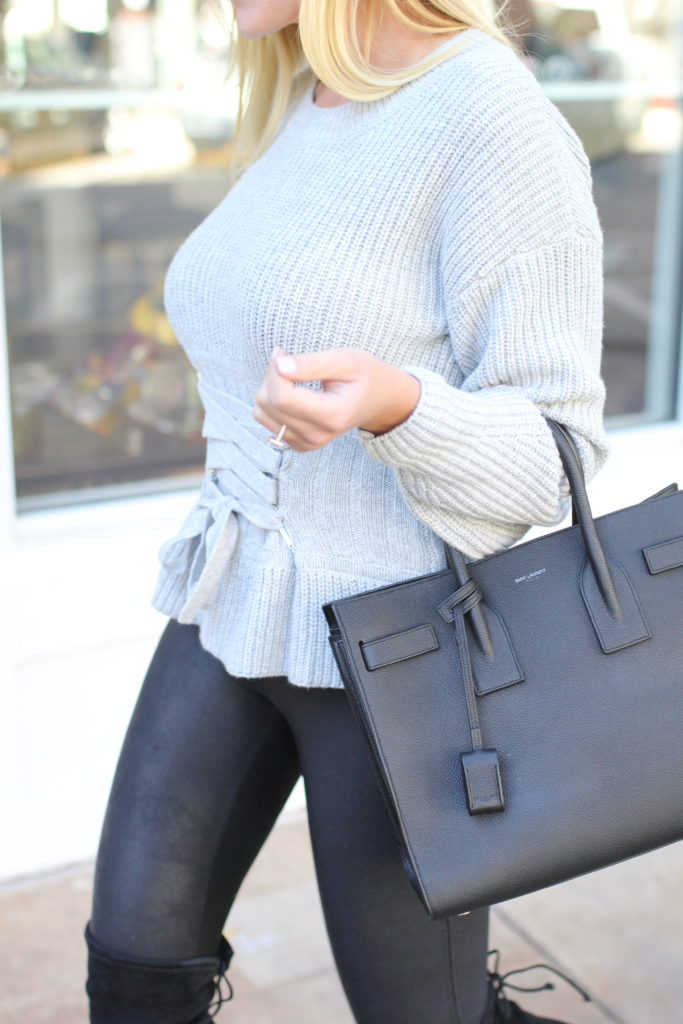 Sweater: Trouve | Legings: SPANX | Boots: Stuart Weitzman | Bag: Saint Laurent
Trends change with the season, and some I am on board with, others I am not, but the corset style trend I am here for! Why? Because during the holiday's I need a little more help than ever from my clothing to keep me looking slim and not like the turkey I just indulged in!
You know that feeling we all get on Thanksgiving, once you licked the bowl of mashed potatoes clean, cleared the turkey and accidentally stolen a slice of every pie, all you want to do is get in your comfy sweats and lay on the couch for a nap while football plays in the background and bask in your overstuffed glory! Well that is the beauty of this sweater! Loosen up your strings, kick off your boots and sleep away the regret of everything you just ate! Heading out to go fight the black Friday crowds? Tighten things up and you're good to go 😉 Don't you love my thinking?
Regardless, I am obsessing over this super cute and cozy Trouve sweater! And if I am on the cozy train, I might as well keep things going with my favorite pair of SPANX leggings and the always comfortable Stuart Weitzman boots. I actually snagged these boots up during the Nordstrom Anniversary sale a couple months ago, but they are back in stock! Topped the look off with my new Saint Laurent Sac De Jour and it is safe to say I am ready to fight those Black Friday crowds!