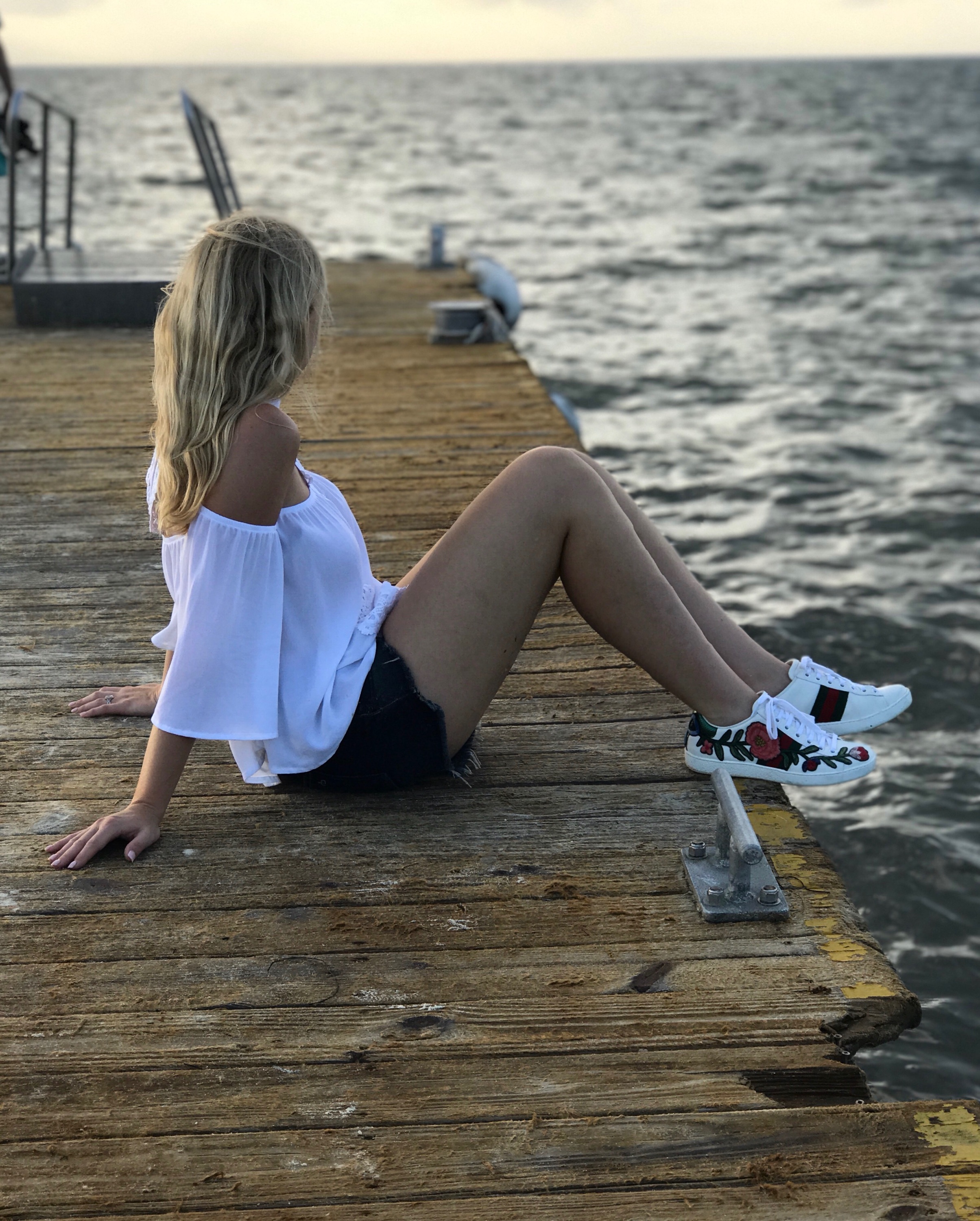 Top: BP, Shorts: Rag & Bone, Shoes: Gucci (Similar)
"Appreciate this moment. Stop and look around you. Be thankful for all you have and where you are because this time next year, nothing will be the same."
-R.H. Sin
I always like to take a few moments out of the week, every Sunday, to sit and reflect. This week, as I am on vacation with my family, I sit here on this dock looking out at the vast ocean, watching this gorgeous sunrise that God has painted in the sky and I can't help but to think of gratitude. Gratitude is a topic I have been working on with my boys lately. Travis and I have reminded our boys this week how blessed they are to be able to get to experience wonderful vacations and adventures that not everyone is able to experience. It is so easy to teach your kids gratitude, but when is comes to practicing what you preach, it is a little different. I struggle sometimes to be thankful because life can get tough, work can get complicated, and things don't always go your way. But as I am sitting here, I remain astonished at this incredible life that God has gifted me. I have a loving, caring, supportive husband that treats me like a queen, and busts his ass to support our family, and provide us with this incredible life. I have two precious, healthy boys that bring more light and love to my life than I ever thought possible. I have incredible parents that loves and supports me, and would do literally ANYTHING for me! I am on a reality tv show- I never imagined that that would be my life! And because of that, I have all of you! I have been blessed with the opportunity to share my life with you through the TV screen and with my blog. You all show me love and support even on days when I don't feel like I am good enough or strong enough or whatever it may be- I have all of you!
Being very transparent, I feel as though my life will never be the same again. We are about to launch season 2 of Real Housewives of Dallas and I know my life is going to get crazier and my schedule will just get more packed, but the one thing I always want to keep in the forefront of my mind is gratitude! I am not going to let a TV show or the press define who I am, change the way I behave or turn me into something that I am not. I get comments on Instagram all the time from people that are surprised that I responded to their kind comments and compliments, and it seems weird to me because in my mind, if someone take the time out of their day to try and make yours a little brighter, the least I can do is respond with a simple "Thank you". Having a certain number of followers, popularity, or a job title doesn't make you any more or less valuable as a person. I believe that everyone should be treated with kindness and respect- period! You all are so sweet to me and for that I am grateful!
I pray that you all are able to extend a little extra gratitude as you go on with your week, this week. Share some kindness with a co-worker, extend grace to the waiter at the restaurant that is going a little slower than you'd like, or treat a friend that you haven't seen in a while to lunch. Show others you care, and spread a little kindness. It goes a long way!
I love you all!
Steph