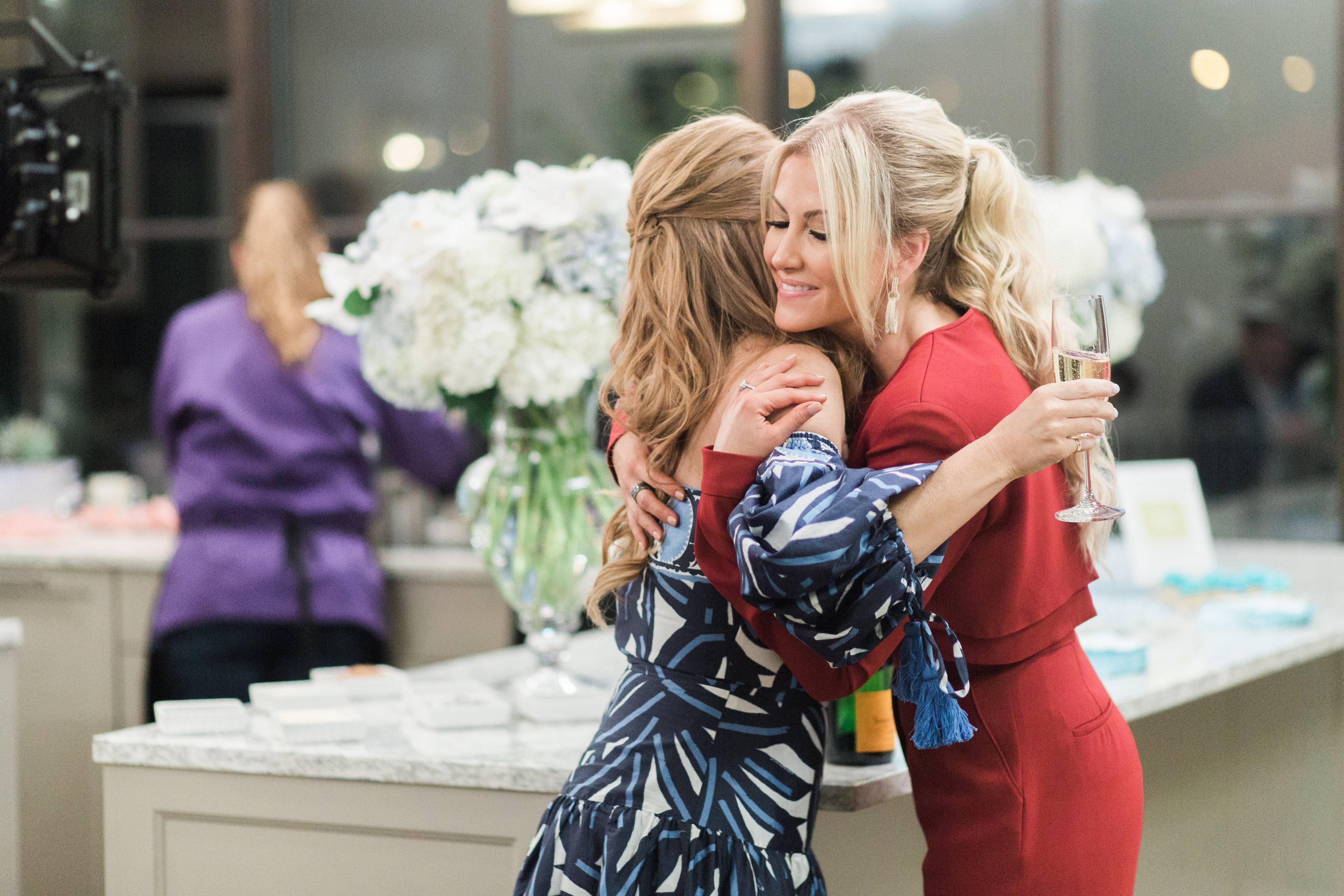 Jumpsuit: Elie Saab | Shoes: Christian Louboutin | Jewelry: DeBoulle
SHOP THE LOOK
Earlier this week a preview clip (above) was released for this episode highlighting the conversation that I had with my mom regarding my suicide attempt. As I watched, I went through a range of emotions. To say the least, I was scared, embarrassed, nervous, anxious and overwhelmed. I reluctantly thew all of my fears to the wind and posted the video on my social media channels. The next day I sat on my couch, reading the responses to my story and just cried! So many precious people shared their stories. For some silly reason, I believed thought that I was alone in my struggles. The stories of kind followers opened my eyes. So many people shared that they have gone through the same struggle, many have made attempts and a few even shared that they have lost a loved to suicide. My heart was touched and broken all at the same time. I cannot thank you all enough for the love, encouragement and compassion that you have shown me throughout this week. When LeeAnne Locken opened up to me about her past struggles, I felt a little less shame in my situation. I hope that by sharing my story, those struggling with suicidal thoughts will reach out for help. I hope that those carrying shame will know that they are not alone. Together we can support one another through the good times and the bad.
I am very grateful for the laughs and the tears that LeeAnne and I shared at D'Andra Simmons's party but now its time to focus on the laughs. LeeAnne and I were clearly having so much fun that I let my drink count slip away. When Brandi Redmond walked in the door, I was excited because one thing "Drunk Stephanie" loves more than another shot of tequila, is for her best friend to walk in the door and join in on the drunken fun. I soon realized that Brandi was here to have a conversation with D'Andra about some recent rumors that were going around. I knew we needed to step in. I fearlessly led my pack; LeeAnne, Cary and myself, into the conversation…but from the back. I wasn't too confident in my "tequila sure" plan, so I wanted a swift exit just in case it all hit the fan! I went over there and did what I thought was best in that moment, offer everyone another tequila shot! Conflict resolution at its finest! For my final performance of the night, in a quick move, I broke free from the restraints of Brandi and Cary and so gracefully climbed aboard the lion statue that was, in my mind, waiting to carry me off into the night.
In this episode, we also got to experience Bruin's Reveal party! I was so honored and excited to throw the party and wanted to make it special for Brandi. When you want to throw a fabulous party, you call a fabulous party planner. I enlisted the help of my dear friend Rachel Burt Garcia, Owner of 'As You Wish'. I knew she would help me throw the most amazing baby reveal ever seen. I wanted this party to be absolutely perfect in every way to celebrate the newest addition to the Redmond family. We also had to be a little secretive as we were not telling the guests right away what or who the party was for. From the gorgeous floral arrangements to the champagne wall, (something I need in my house all the time) to the cotton candy cart for the kiddos, everything turned out perfect! Travis always says when you throw a party you can either go hard or you can go Hollman. I went Hollman with this one!
Kameron Westcott was the first guest at the party and was clearly onto me. In a quick panic, I told her that I had a surrogate because that's all I could think of. Travis, I give your acting skills a 6/10- I think you could have been a little more convincing with our impromptu lie (that I dragged you into),but it worked. As more guests started to arrive, I was getting more and more anxious to share the news and blow the lid off of this precious secret. I have to give myself props, I have kept this a secret for months so finally being able to share the news with our group of friends was a huge relief. Watching Brandi, Brian and the entire Redmond crew walk down the stairs with their new red-headed addition, made all of the hard work and planning worth it.
Well, the party is not over yet. Tune in next week for part two of this precious party celebrating the most handsome Redmond!
MORE FROM BUBBLES AND BRU
Thank you Moonlight Cakes for the delicious goodies!
Shag blew me away with their champagne wall!
Are these not the cutest cups? Love 5 By 7 Designs!
The kids LOVE Cotton Smith! We have them for all of our parties!
Bella Flora does the BEST arrangements!
My go-to dream team for any party, As You Wish!
Thank you Jennifer Yarbro for the STUNNING photos!