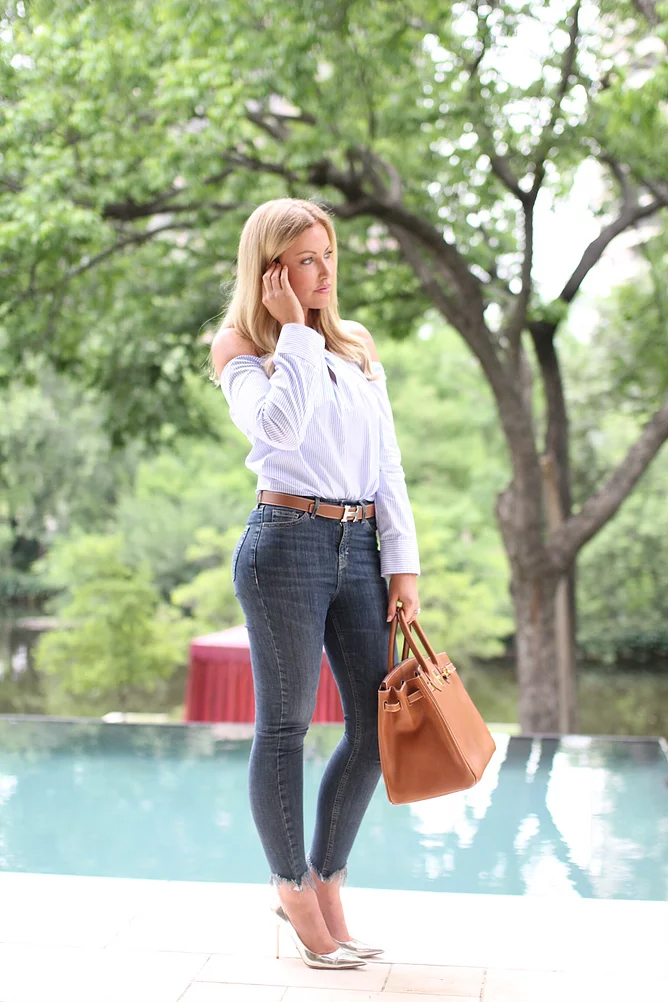 Top: Rag & Bone (Similar), Jeans: TopShop (MUST HAVE!), Belt: Hermes, Shoes: Jimmy Choo (Also Love), Bag: Hermes (Also Love), Lip: Cle De Peau
Blue pinstripe tops are EVERYTHING this season and this makes me happy because blue is one of my absolute favorite colors to wear. I have found TONS of super cute, and ridiculously affordable blue pinstripe tops, that I will link for you all below, from SheIn and a few other retailers. This is not a paid post or anything like that, but SheIn seriously is the go-to spot for trendy tops, mainly because they're CRAZY cheap and come as pictured (we all have that friend that has ordered a super cute dress from China and it comes in looking like a paper grocery bag from Target. SheIn is not that company!)
I paired this blue pinstripe top with these INCREDIBLY comfortable TopShop jeans. Okay, story behind these jeans: My assistant, Treylor Swift, as I call him, swears by TopShop's denim. This surprised me because he is as high maintenance as they come (trust me!), so he bought me this pair of jeans to try on for size. Despite my doubt, because I always have a terrible time finding jeans that fit me well under the $200 price point (mama's got a booty), these fit like a glove! Sold! They were $75, just as cozy as some of my more expensive Frame or Rag & Bone jeans, and are super on trend with the raw edge ankle. Treylor Swift wins this round! 
 Lastly, I threw on my silver Jimmy Choo pumps, my tan Hermes belt, grabbed my Birkin and headed out the door. Now, let me just say, if you do not have silver shoes… girl, go for it! I wear these more than any other shoe in my closet, way more than I originally thought I would. Now, yours don't have to be Jimmy Choo by any means, there are tons of cute silver pumps and I will link some of my faves below for you! They've just quickly become a staple in my life, and I know they will in yours as well! 
 Wishing you all the most amazing week!
Love,
Steph