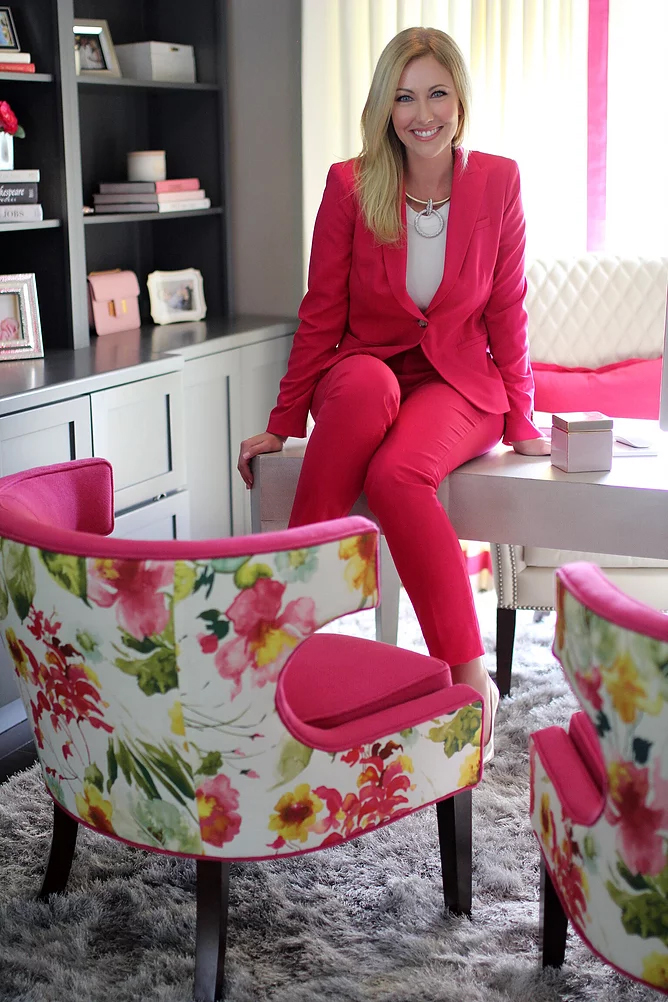 Blazer: Banana Republic, Bodysuit: Wolford (Similar), Pants: Banana Republic, Shoes: Jimmy Choo (Similar), Necklace: Chanel (Similar)
Office Accessories: Candle, Decorative Box, Chanel Coffee Table Book, Photo Frame
This past year has been a whirlwind for me, and I owe all the thanks to you! The unbelievable amount of love and support you all have shown me just absolutely blows me away, I truly can not thank you all enough for that.
In this past year, I have gone from stay-at-home mom that fills her time between drop off's and pick up's to working mom…who works her schedule around drop off's and pick up's.
I started blogging as a fun little pass time after Real Housewives of Dallas season 1 aired and as I have said before, blogging transitioned from a pass time to a passion very quickly.
Well… now that I am a working woman, I figured it was time for me to have a big girl office, and that is exactly what I got. I enlisted the help of my fabulous decorator, Donna, and together we achieved my fairy tail #GirlBoss office.
Sorry boys, this one's for mama!
#NoBoysAllowed
Here are a few of my favorite little accessories that every #GirlBoss needs to complete her office:
1. Candles- To keep the smelly boys out!
2. Coffee Table Books- To remind you that an office CAN and WILL be as fabulous as the person that occupies it:
3. Frames- To remind you of the ones you do it all for:
4. A Lot Of Pink- AKA boy repellant: