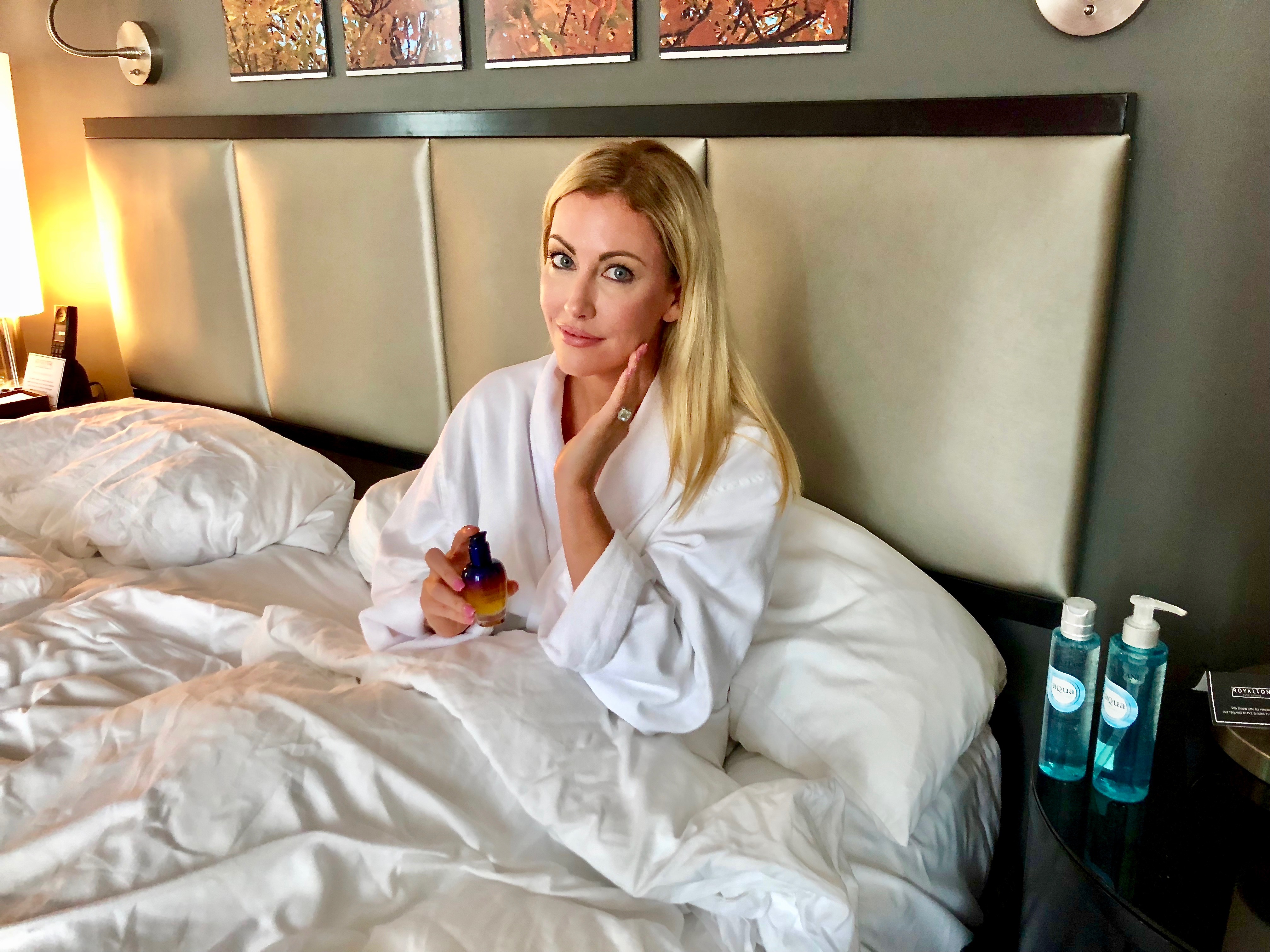 L'Occitane Aqua Reotier Water Gel Cleanser, L'Occitane Immortelle Overnight Reset Oil-In-Serum and L'Occitane Aqua Reotier Moisture Prep Essence
This has been an absolutely crazy month of travel, events, press, and just plain chaos for me. The month started with a week long top to NYC for New York Fashion Week. At the end of the week, I hopped on a plane for two days to snuggle with my boys and then flew BACK to NYC for some more Real Housewives of Dallas press and to film Watch What Happens Live with Cary Deuber. From NYC, I hoped a plane the next day to head to Nashville to film Pickler & Ben with Brandi Redmond and then got home just in time to throw on our unicorn onesies and enjoy the Dallas Pride Parade. I am exhausted all over again just typing that!
Through those crazy three weeks, I was in hair and makeup almost everyday (which my skin is not used to) from sun up to sun down. At the end of the day, I could not wait to kick off my heels, throw on my cozy pants and hit the sack, but first I have to take care of my skin. I could not wait to use my L'Occitane Aqua Réotier Water Gel Cleanser at the end of the day paired with the Aqua Réotier Moisture Prep Essence, but my secret trick that totally saved my skin during this trip was a new product that I was trying out by one of my favorite brands, L'Occitane, called the Immortelle Overnight Reset Oil-In-Serum. This is a delicate Oil-in-Serum formula that helps your skin recover overnight from intense everyday life. Over the course of the week my skin started to appear more youthful, I looked noticeably rested (which I wasn't) with less visible fine lines, and my skin looked reset by the morning. The Immortelle Overnight Reset Oil-In-Serum kept my skin from feeling dry and dull, and I was ready to go for the next day adventures. Now…I cant say the same for my feet- the definitely needed an overnight reset (Louboutin's show no mercy)! A fun fact that I learned about this serum is that "Immortelle" is known as the everlasting flower. It never fades, even after it has been picked. How cool is that?
L'Occitane Immortelle Reset Serem
Aqua Reotier Water Gel Cleanser, Immortelle Overnight Reset Oil-In-Serum and Aqua Reotier Moisture Prep Essence
Click on some of the links below to shop some of my other favorite L'Occitane products PLUS L'Occitane is running a promotion now through October 3rd with 20% off your purchase and you get a special free gift! (Hint: my boys LOVE the Lavender Foaming Bath)