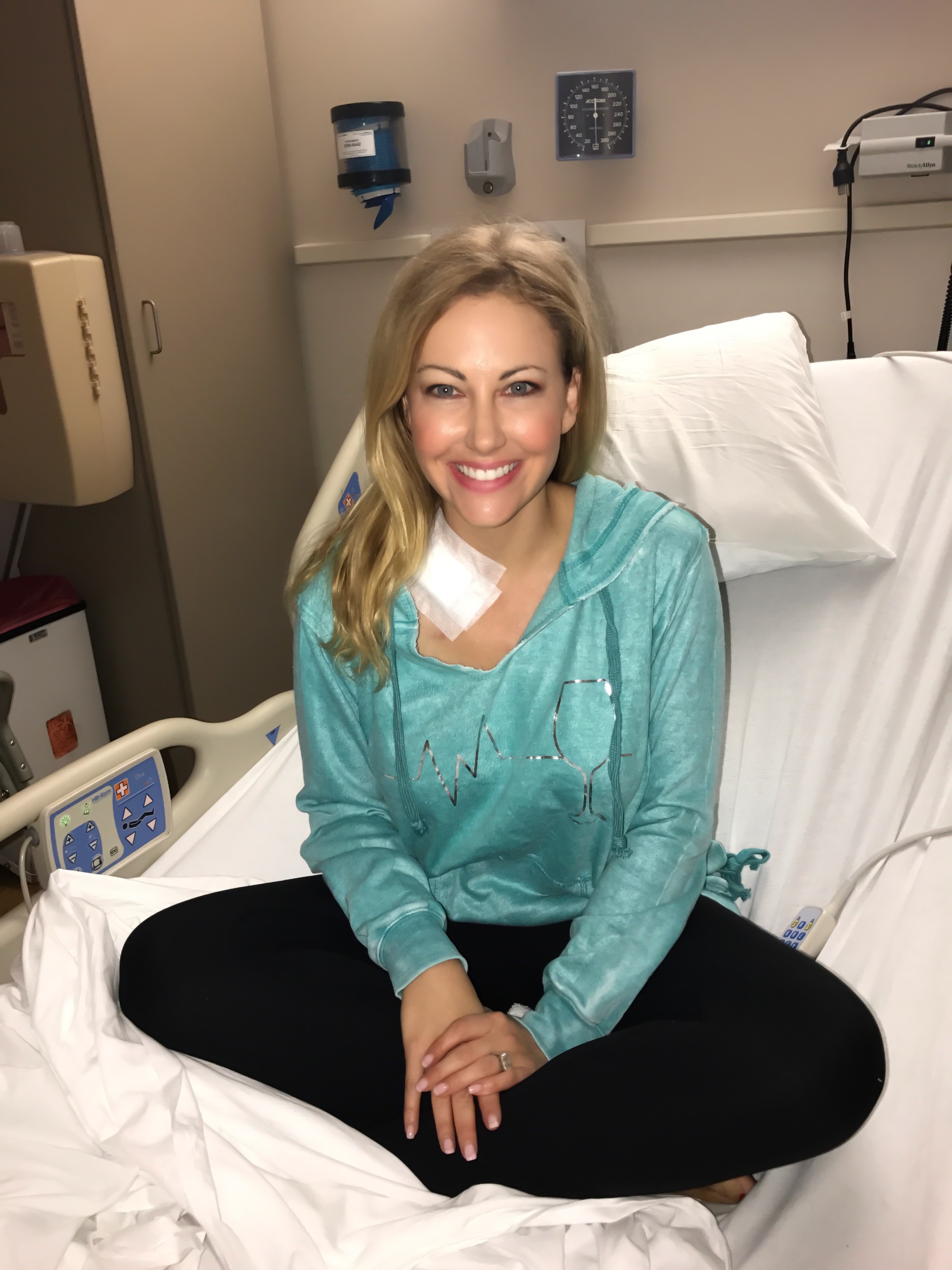 Sweatshirt: BrandiLand
Four years ago my oldest son, Chance, and I participated in a cancer walk. While there, I learned more about the dire need for bone marrow donations and the life saving procedure. I learned that 70% of bone marrow matches must come from the kindness of strangers as only 30% of bone marrow matches are from a family member.
I remember looking at my sweet four-year-old son and thinking 'if either of my children were suffering from cancer, I would hope that someone would help them'. I decided to join the bone marrow registry to save a life. It was very easy. They simply swabbed the inside of my mouth.
Fast forward four years- while enjoying dinner with my family, I received a call from a New York number I didn't recognize. I answered the phone and was surprised to learn that it was someone from DKMS.  This was the same team that swabbed me four years earlier following the cancer walk. I was informed that there was a woman in desperate need of a bone marrow transplant and that I was her sole 10/10 match. I experienced a range of emotions but felt blessed to have an opportunity to save a life.
The DKMS team was absolutely amazing. I never felt pressured to donate whatsoever, they were available to answer my questions, and were supportive of my decisions. Many people, including myself at the time, didn't understand the vast change in the process of how bone marrow harvesting has changed. I thought I would have to go through a painful procedure where the marrow was surgically removed from my back or hip.  That is no longer the sole process. They made certain that I was informed about the procedure and everything to expect along the way.
I was pleasantly surprised that the donation may be done through a procedure called Peripheral Stem Cell Donation. It affords little discomfort and holds almost no risk to the donor.
I took daily injections of a medicine called Filgrastim for 5 days, leading up to the procedure. This medication is administered by a nurse at a convenient medical center. I learned that these injections create an excess of red blood cells that aids ones body in the recovery process, post procedure. The Filgrastim shots made my body a little achy. I would compare it to the sensation of having slept on a hard surface and feeling stiff and sore the following day. For me, the Filgrastim was the most uncomfortable part of the experience and it really wasn't that bad.
Following 5 days of shots, I went to an approved medical center of my choosing. I chose to go to OU medical center in Oklahoma City, Oklahoma. I cannot say enough good things about the physicians, nurses and other clinical staff.  They treated me very well and worked to ensure that I had an exceptional experience. This is usually accomplished on an outpatient basis, but because of my recipients need, an inpatient stay was the preferred method.
For the outpatient procedure, an IV is placed in ones arm. This provides the line to circulate your blood through a machine that separates the red blood cells and plasma from your blood. This process takes approximately 3-5 hours depending upon the amount of cells needed. The red blood cells and plasma collected will be given to your recipient for the bone marrow transplant within 48 hours- crazy!
I have small veins that don't cooperate so I opted to have a central line surgically placed in my jugular. While this sounds scary, with local anesthesia, I felt nothing. The doctors were very kind and worked to make certain that I was comfortable and calm during the entire process.
During my two day stay, I was hooked up to a machine for 5 hours a day to retrieve stem cells. The staff was very attentive to my needs and offered pain medications and calcium to make the procedure very comfortable for me.
It has now been 7 days post procedure and other than a little tiredness, I'm feeling great. I am back to my routine of driving my boys to school and living life exactly how I did before the procedure.
I think most everyone has a common goal to make a difference and do things to make the world a better place for future generations. I hope that you will join me in registering for bone marrow donation and offering the gift of life to those in need.  The need is so great and the process is honestly incredibly safe and easy!
To find out more about how you can get involved, join the donor registry, or to find a local drive, please visit 
DKMS.org
I strongly encourage all of you to get swabbed and give the gift of a potential match to someone in need!
I talked a little bit more about my experience going through this process with medications, doctors, and my family, to Fox4, check out the clip below!