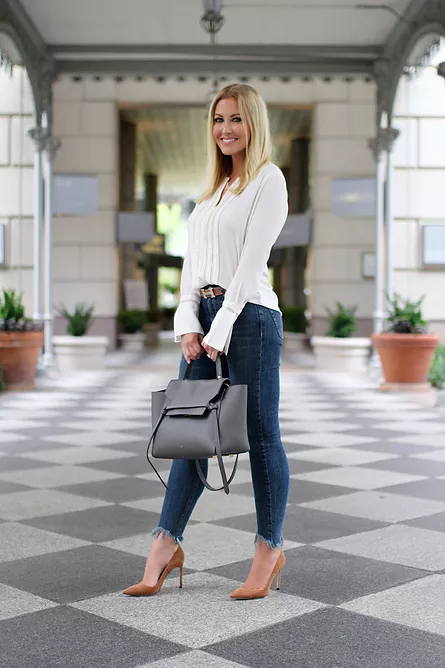 Top: Banana Republic (Sold Out,Also Love, Also Love), Jeans: Topshop (MUST HAVE!), Shoes: Manolo Blahnik (Similar), Belt: Hermes, Bag: Celine
This past weekend, I had the honor of attending the 5th annual Reward Style Conference in my favorite city, Dallas, TX!
If you are not familiar with Reward Style, or LiketoKnow.it, they are a company built of a community of bloggers that have changed the blogging experience to be much more user friendly and convenient for readers. LiketoKnow.it has developed a system, connected to your Instagram account, where once you make an account when them (Click here to sign up), you can like any photo that it LTK attached, and outfit details will be sent directly to your email! It is super cool and unbelievably innovative. Recently they introduced the Like to Know It App, which is totally genius in my opinion. So whenever I am scrolling through Instagram and I see something I like, I always screen shot it to save for inspiration later, whether it be an outfit or home decor ideas, to kids toys. Well, LTK has somehow, I have no idea how, developed an app that will detect your screenshot of LTK posts, and push a notification to your phone instantly, giving you info on the items in the photo, where you can buy, and similar options. CRAZY smart, right?! I love it!
Over this past weekend, I was invited to their conference that they host every year, and let me tell you, it was a jam packed weekend! We had classroom session and networking meetings, lunches and events, it was the most fun/exhausting experience, and I have you all to thank for that!
In my line of "business", reality tv, often you see women going after other women, and trying to tear each other down. Going into this weekend, I was a little fearful, because I had the mindset that all of these women were competing with each other to have the best blog, or gain the biggest following, so I was going to keep to myself and just try my best to learn as much as possible… but it was the exact opposite! I had the pleasure of hanging out with some of the kindest, most talented, inspiring, hardworking, drop dead gorgeous women this weekend, and I am so very thankful for that! The drive that these women have, to let nothing stand in their way to achieve anything short of their dream makes my heart so happy, and gives me the encouragement that I need to keep going.
Lastly, a piece of information that I found out this weekend, that I was unaware of, was the the reason I was invited the this conference was because I am one of the TOP 200 BLOGGERS IN THE USA!!! How crazy is that? I owe all of the thanks to you, my online friends! I had no idea what I was doing when I started this fashion blog, but as I have said, it turned from a pass-time to a passion very quickly, and I always strive to produce the best content and share with you all what you are asking for, so thank you for all of the feedback, compliments and crazy amount of support of the past 9 months! You all are truly a blessing!
I wanted to give a quick shout-out to a few of my girls from the conference that you totally need to check out!
Riane (www.StelloStyle.com), you are the absolute sweetest, thank you for helping me get started on this crazy journey! You are so inspiring and I love you so much!
Jordan (www.liketoknow.it/jordanunderwood), Sarah (www.liketoknow.it/sarahknuth) and Hollie (www.hollieelizabeth.com/shop) thank you for being my party girls! You are three of the prettiest girls I have ever seen in my life! Thank you for being so kind to me and welcoming me into your group! I can't wait for you ladies to come back to Dallas!
Brittany (www.brittanymaddux.com) you are the kindest soul, with the most infectious smile! You are such a hard worker and inspiration, I cannot thank you enough for your friendship!
❤️
Steph