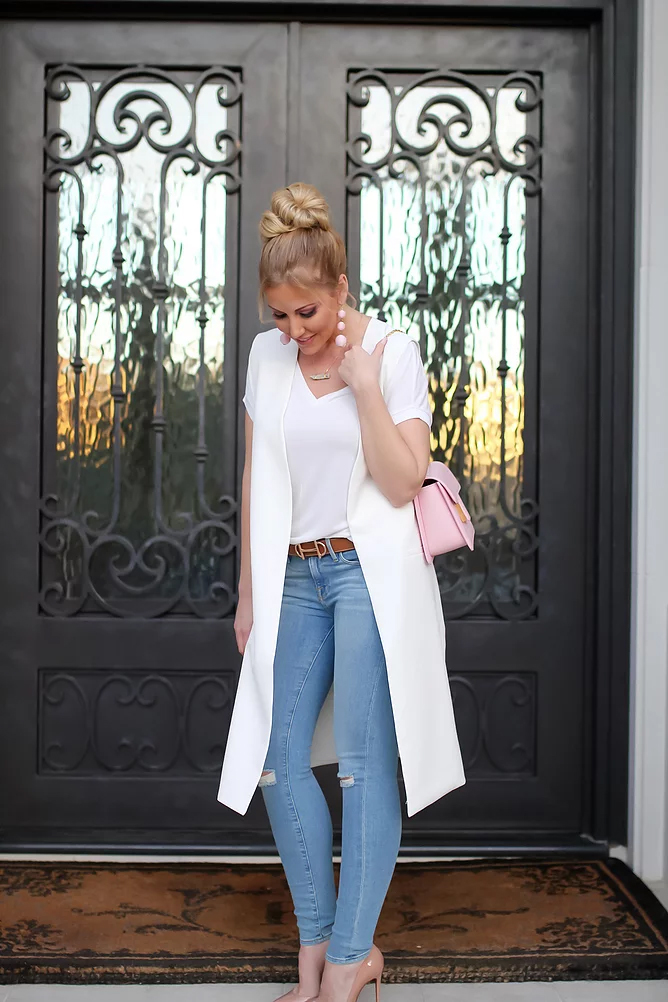 Vest (Under $100), Tee, Jeans, Shoes (Also Love With This), Bag (Similar), Belt (Also Love $, Also Love $$$), Earrings, Necklace 
I am a girl that loves to love so nothing excites me more than Valentines Day. My super sweet husband, Travis, knows this about me and always blows it out of the water, not only on Valentines Day but everyday, in the way he show me love and compassion. Yesterday, I was blessed to find two smiling boys at the foot of my bed holding trays of breakfast for me. So sweet! My love then took the boys to school while I got ready for the day… ULTIMATE TREAT! (I usually go through the carpool line at 7:00am with in my slippers and robe. Let's not even talk about what my hair situation is!) I come downstairs after the boys had left for school to find the most beautiful bouquet of flowers with the sweetest hand written note from, my love, inviting me on a lunch date.
❤️
These sweet little gestures meant the absolute world to me! I think we are all guilty of getting caught up in the daily hustle and bustle of our routine that it becomes so easy to forget to honor those that we love and let them know how much they mean to us. Travis is very good about coming up with little surprises or small little gifts to keep me on my toes, and the best gifts are the ones that don't cost a penny. I really am a simple girl and while I like nice things, gestures of love do not have to be costly.
I encourage you, as we continue through this week, to show those around you gestures of love. Maybe treat a new co-worker to lunch one day to get to know them better. Surprise your special someone with a surprise gift when they get home from work. Take the kids to the park and have some family time.
Spread love and kindness; we have so much hate in this world, but we have more to be thankful for!
Sending you all love,
Steph