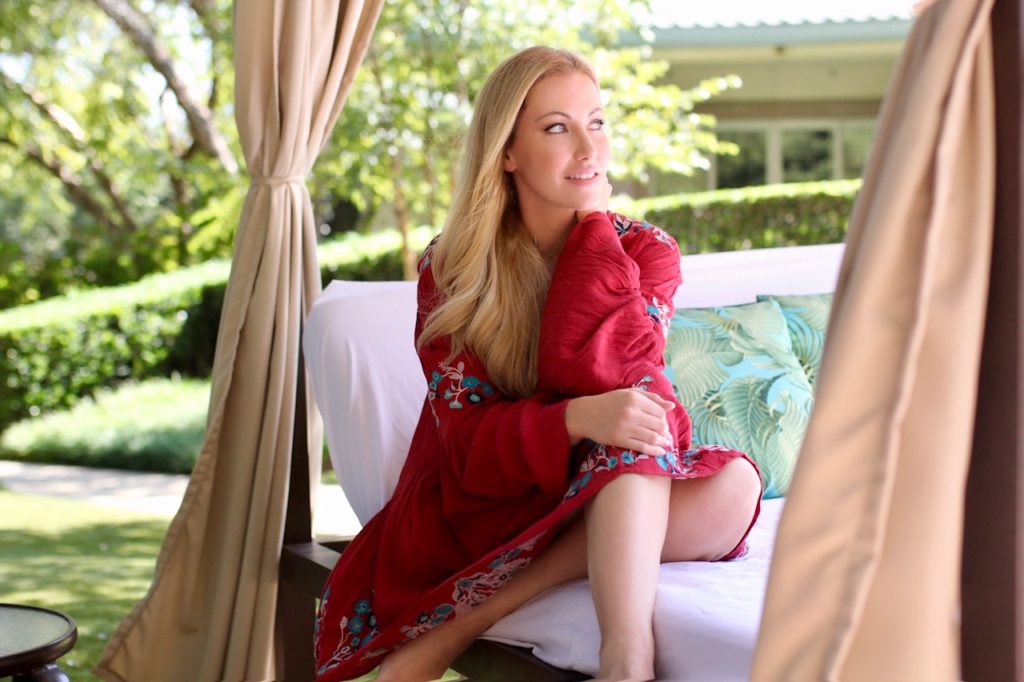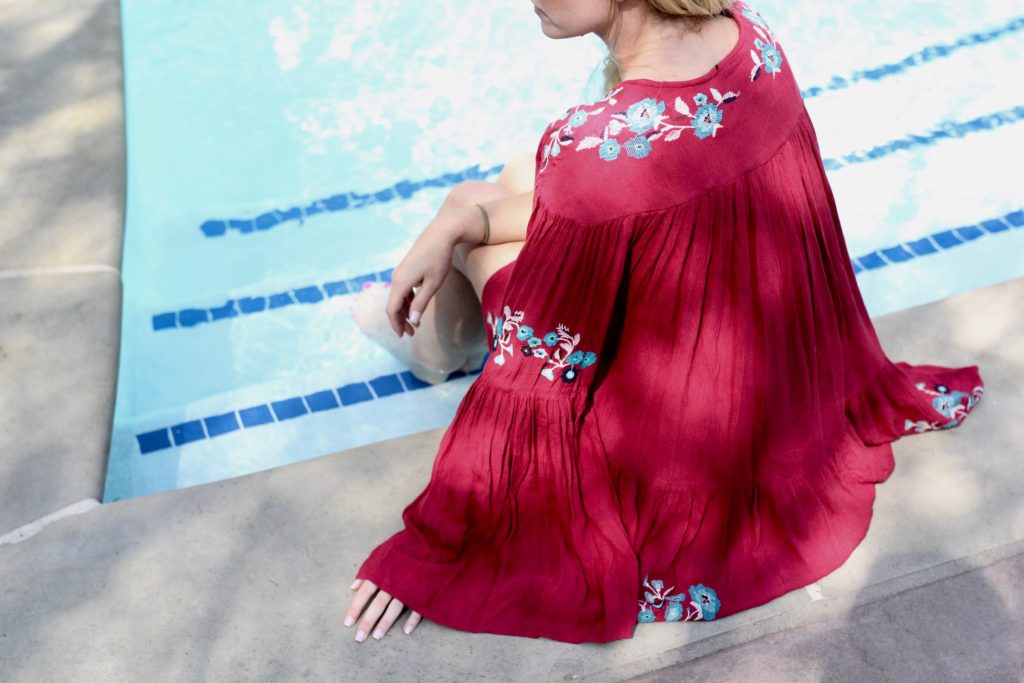 Dress: Free People (ON SALE!), Lip Gloss: Cle De Peau, Eyelash Primer: Dior (ON SALE!), Mascara: Dior (ON SALE!), Nail Polish: Essie (ON SALE!), Hair Styling: T3 Hair Dryer (ON SALE!)
We are about to hit October but in Dallas it feels like the middle of the summer! After two weeks of traveling, doing press for Real Housewives of Dallas, enjoying New York Fashion Week, and stuffing my face with all of the food New York has to offer, a day by the pool doesn't sound half bad! I have heard rumors of it before, but I can confirm myself that it is in fact true… there is such thing as a NYFW Hangover! And let me tell you, it has hit me hard! After dropping the boys off at school this morning, I headed home, threw on this comfy cozy Free People dress that I just picked up from Nordstrom (It is 30% off right now!), grabbed a couple gossip magazines and headed to the pool with a cocktail on my mind! Only the power of a cocktail could cure this hangover!
Right before I took off an my adventure of press, fashion and food, my friends at T3 sent me their Featherweight Luxe 2i Hair Dryer and let me tell you, when you are at the check in counter at the airport and the lady behind the desk tells you that your bag is 16lbs over the limit, it is nice to know that the one thing you are not going to have to sacrifice is your hair dryer! I believe the version I have is currently on sale at Nordstrom, and so if you haven't checked out T3's products, this is the perfect time. And I promise this is not a sponsored shout out, I am just a hair dryer snob so when I find a good one, I want to shout it out to the world!
I also get tons of questions every week about my regular day-to-day make up look so I wanted to throw my three favorite products out there for you all, that I am actually wearing right now. I have never been shy about my love for Cle De Peau, but last year they just about ruined my life! THEY DISCONTINUED MY FAVORITE LIPGLOSS! After I picked myself up off the floor and wiped away my tears, I went the Nordstrom beauty counter and found that they actually just re-named it and created a prettier new container. All was well again in my world. Also, I about jumped out of my lounge chair a few minutes ago when I was linking my Eyelash Primer and Mascara and saw that it is on sale! It is 15% off right now, which isn't that huge of a discount, but considering how fast I go through it (have you seen how much I've cried this season?) I figured I might as well stock up and save a little money!
Hope all of my fellow NYFW attendees have a handle of your NYFW Hangovers and enjoyed a cocktail just as I am. Speaking of which…I think it's time for a refill!
XOXO,
Stephanie