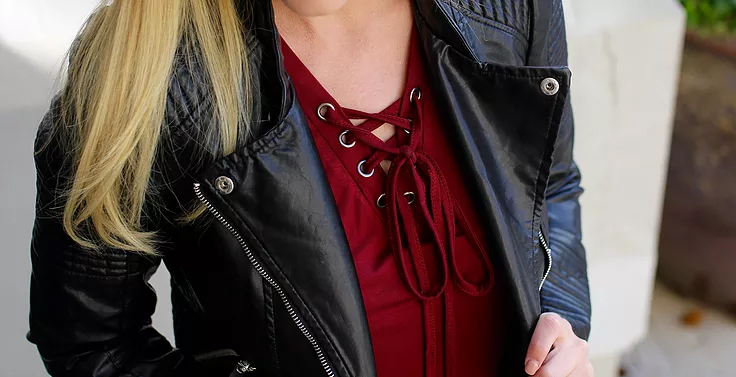 Jacket:c/o SheIn, Top:c/o SheIn, Jeans: Rag & Bone, Shoes: Christian Louboutin, Earrings: Intermix (On Sale)
 I am a firm believer in the cost-per-wear rule! If you buy a dress that is $500, but you can wear it 10 different times, you've gotten your "cost-per wear" worth out of the dress. 
 But if you spend $200 on a dress that you can only wear once, that wasn't as wise of an investment because your cost per wear was 4x as much as the $500 dress.
A few weeks ago I found this super cute leather jacket at Neiman Marcus that was a few thousand dollars more than I wanted to spend on a leather jacket; I just couldn't justify the CPW on it.
Well, every once in a while you come along pieces that are an amazing deal and your "cost per wear" is down to like under $5! I found this super cute black jacket, that was almost identical to the one I saw at Neiman's, and top at SheIn for UNDER $50! For the entire outfit! YES! I have been wearing this jacket all week long and considering what a great deal it was, my CPW is down to like under $6 right now! AMAZING!
By the way ladies, CPW (Cost Per Wear) is how you justify your purchases to your hubby when the credit card bill comes. You will get like half way through explaining how it works, they will tune out and you can go on your merry way. ?
❤️
Stephanie