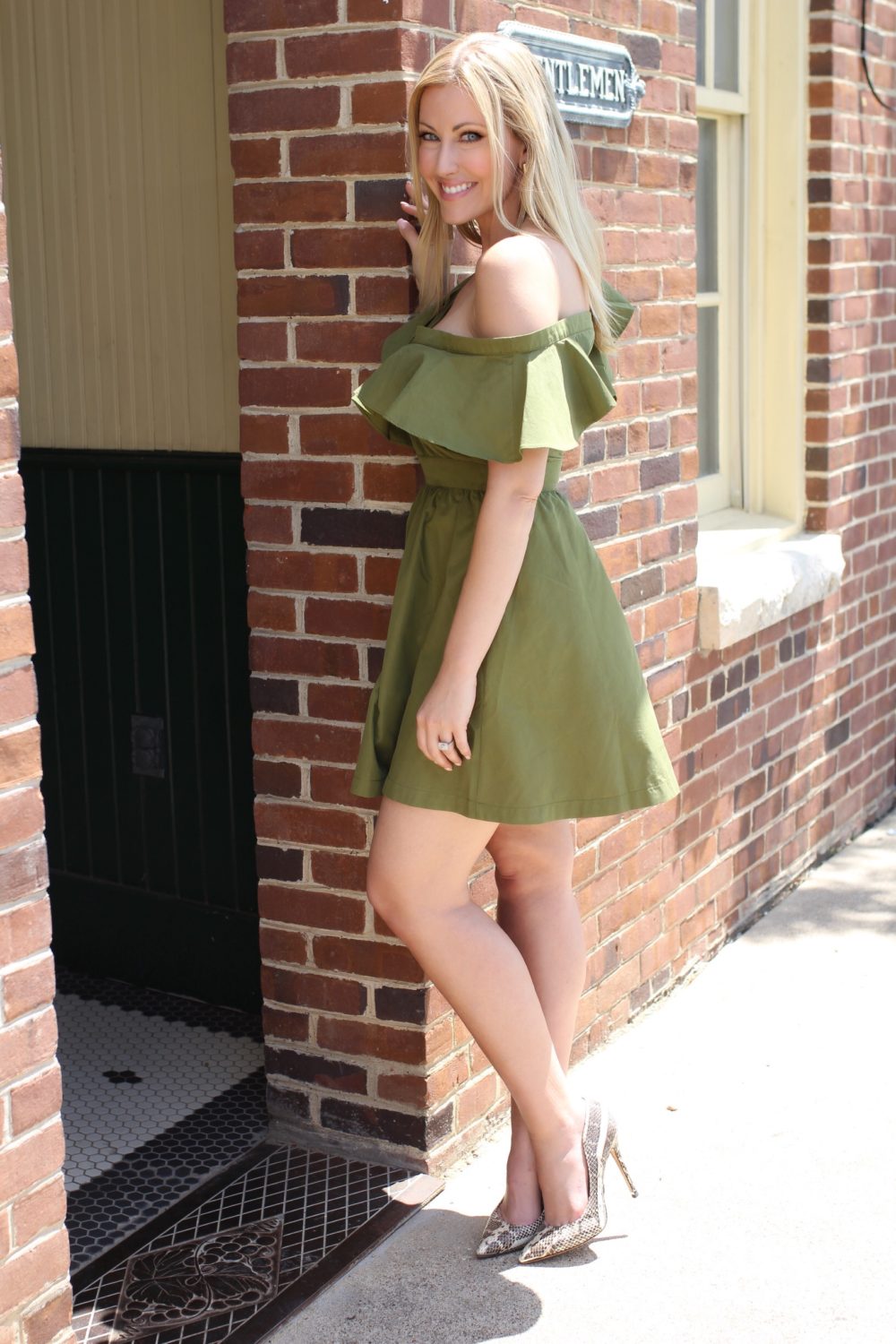 Dress: JOA, Shoes: Michael Kors (Old, Similar), Earrings: J.Crew
Raise your hand if you've ever been personally victimized by Neiman Marcus! 🙋🏼
Doesn't it always seem like the cutest things are the most expensive? Why is that? Why can't everything cute in the world just be under $100. That would make my life so much easier because then I wouldn't have to hear my husband tell me how impressive my credit card bill is every month (I'm quite talented in the shopping department)!
Well every once in a while, some wallet saving designer will come through and make a similar look for WAYYYY less! And those are people we call friends! I am all for investing in the timeless pieces, but some things you know you're only going to wear for a summer then pass along, so why spend a fortune on them? Well today, I have complied some of my favorite Look for Less, including this JOA dress that is a similar match to a Self Portrait dress that I bought a few months back! And truth be told, this dress is way more comfortable on the wallet and in fit! Enjoy!
Oscar De La Renta Earrings ($345) VS. Bauble Bar Earrings ($36)
Personally, I own both pair and I'm not going to lie, the Bauble Bar option are much cuter in my opinion. But I will let you be the judge of that 😉
 Rag & Bone Gingham Top ($295) VS. WAYF Gingham Top ($65)
Gingham is going to leave as fast as it came, so spending under $100 on a top versus $300 is a deal I would take any day. And I love the ruffle detailing on the WAYF version!
Self Portrait Asymmetric Top ($410) VS. SheIn Asymmetric Top ($18)
This really is the exact same top! The one downside to Self Portrait is that their material provided no give. It is very fit and structured, which is why I think this SheIn option is great not only on the wallet, but in movability as well.
Stuart Weitzman Sandals ($445) VS. Steve Madden Sandals ($67)
I have been eyeing these Stuart Weitzmans for a few weeks now, but when I saw the Steve Madden version, I went ahead a jumped on those…in both colors. Even buying both, I still spent like one third of what I would have spent on the Stuart Weitzman version.
Chloe Saddle Crossbody Bag ($1,850) VS. SheIn Saddle Crossbody Bag ($31)
This seems like THE bag lately…but it won't be forever, so why not get the same style for under $50! I am all for investing in bags, but I think this one is going to be a phase!
Dior Retro Sunglasses ($475) VS. BP. Retro Sunglasses ($12)
Dior makes some amazing sunglasses, and I totally agree that you should spend a little more on your eyewear, but this is more of a fun pair you would take the the beach or in the pool with kids. You always need a cheap pair on hand in my opinion, and they might as well be cute!
Gucci Embroidered Sneakers ($695) VS. Steve Madden Embroidered Sneakers ($80)
I own the Gucci version of these sneakers and let me tell you…I live in them! I get so many compliments on these shoes, and thankfully, I was able to find a similar pair for you all, under $100!