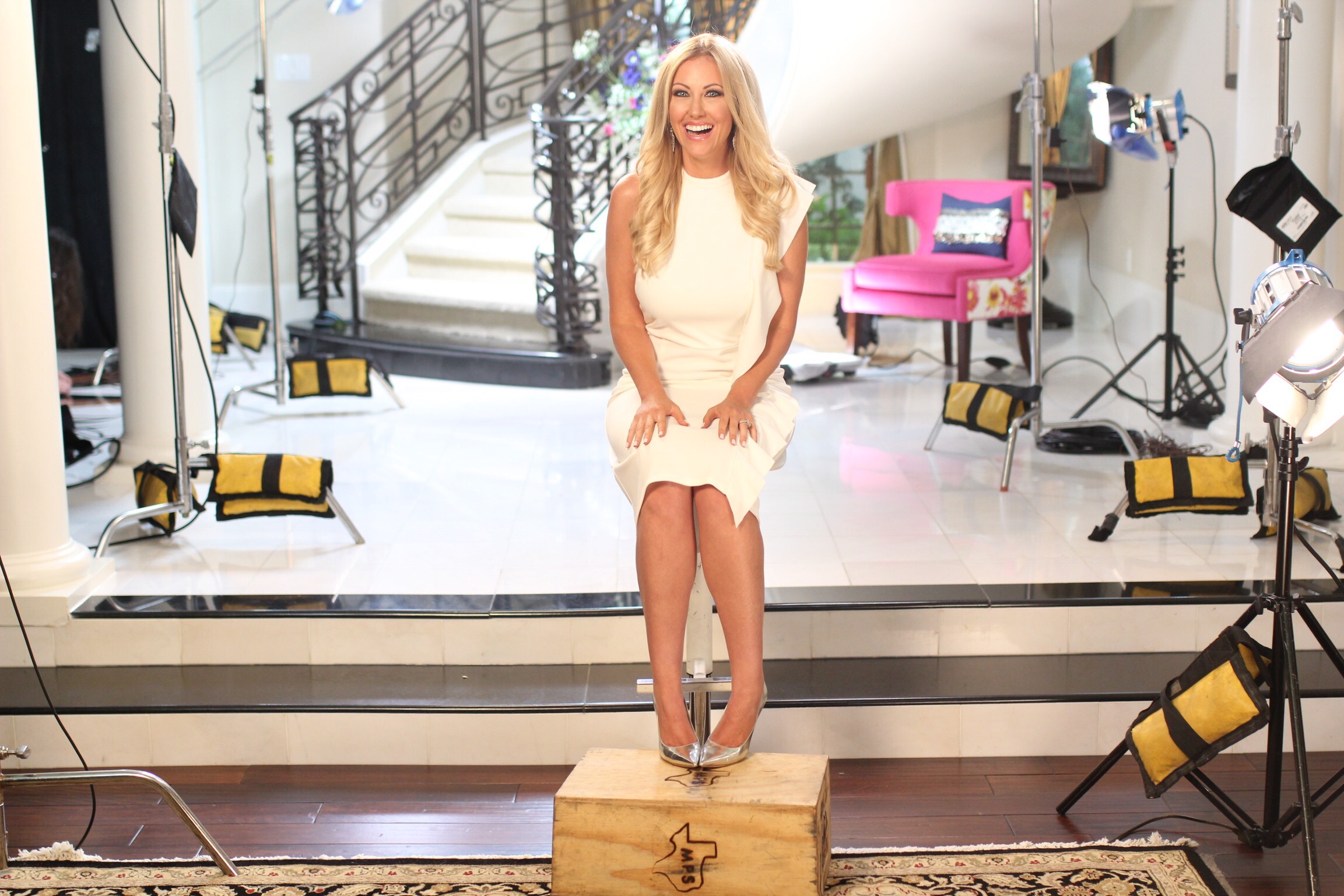 Dress: Topshop, Shoes: Jimmy Choo, Mess In The Background: Bravo
---
Before becoming a 'Real Housewife', I was an avid fan of the franchise. Just like everyone else, I watched each week to see their gorgeous houses, the crazy drama and admire everything that was displayed on the TV screen…but then I became one! That was when I realized how much work it really takes to claim your spot as a 'Real Housewife'.
One of the things I quickly learned was that those dresses you see the ladies wearing as they sit down in a chair and talk to the camera is a HUGE deal. And those clips of them sitting in that chair is called a "confessional". Why? Because that is where you confess all of your thoughts and feelings about a certain scene. It is a nothing-held-back chair!
Season 1 of RHOD, I didn't put too much thought into my confessional looks. We went up to my closet day of filming, pulled a few things and played with what looked best. NOT THIS YEAR! I planned these babies out because I think the images that I see the most of myself online are little gifs from confessionals, and they're used throughout the entire season, so I wanted them to be good. It is kind of like school picture day- that outfit is going to haunt you for life if it isn't good! I enlisted the help of a few stylist friends and together we came up with some great options for the look…but there's a catch. The outfit can't just be cute, it has to be extremely comfortable. You are going to be sitting in this dress for 8 hours at a time for probably a grand total of 5 days when it's all said and done! Mama wants some room to breathe! Also, you're only going to see the top half of the dress, so you want to make sure the dress is more top heavy of the eyes as opposed to a cool asymmetrical skirt design. But most importantly, we always go back to comfort! I will literally wear yoga pants and slippers where the camera cuts off- that is now dedicated I am to comfort, haha!
"Confessional Dresses", as we refer to them, are in their simplest form are great statement dresses! Here are some of my confessionals picks and rejects, along with some great "confessional" options of your own!
I won't tell you which outfits made it and which didn't, but you're sure to find out when you tune in August 14th at 10/9c on Bravo!
---
Simply White:
The Jumpsuits:
Bold in Black:
Beautifully Blue:
The Honorable Mentions: