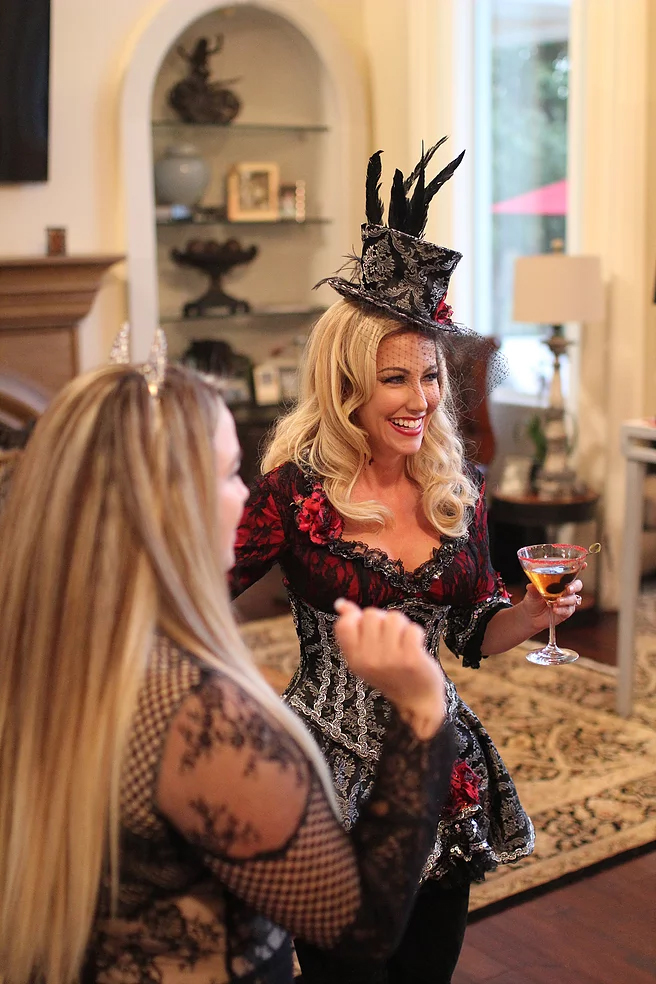 I have so many people to thank for making this Halloween party so special for me! Bella Flora sent the most amazing team over early in the morning, until late in
the afternoon to transform my house with the most gorgeous flower arrangements and rose petal covered tables! Absolute Lighting did an amazing job adding the extra spook factor outdoors. Everything was just stunning!
My brother-in-law and sister-in-law, Tanner and Robin, after hair and makeup, courtesy of the fabulous Ms. Cher!  
When I tell you I have the best party planner, I seriously mean I have the BEST party planner! Words can not describe how thankful I am for these ladies! Rachel Burton, from As you Wish Events, came to my house 3 weeks ago, helped me create a vision, and provided way more than I ever could have dreamed of for this Halloween party. She is the kindest, sweetest soul, has the most infectious bubbly personality, ready to handle anything thrown her way. She is truly the BEST and I am obsessed with her! If anyone is looking for an event planner, give my girl Rachel a call! I promise, you will thank me for the recommendation!
The finished product! 
Cher did an incredible job! I love Travis's shirt!
Thank you Low Country Quisine for the incredible food! The "Poison Apples" were to die for!
It really takes a village! Travis and I really are so blessed to have the best team! Courtney, Travis's assistant, is an amazing ball of energy and a joy to have a part of our family! Torie, our fabulous nanny, is like the daughter I don't have! The kids adore her, as do Travis and I, and my little Cruz has a huge crush on her?! Trey, my assistant, keeps me functioning, and is essentially me! He keeps me smiling, and encourages my shopping addiction! 
So thankful for such amazing friends! 
Thank you all for an incredible evening!
Travis and I are so thankful to have you all in our lives!
❤️
Stephanie